WEIGHT SORTER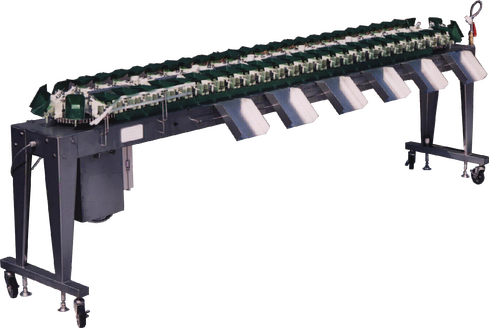 characteristic
EASY TO OPERATE AND MAINTAIN
A simple design and structure that eliminates waste. It is easy to handle and easy to use.
THE ACCURACY RANGE IS BETWEEN 0.5 to 1g
Since the accuracy varies between 0.5 to 1g, it can be used for a large variety of products and sortings.
SORTING RANGE
It sorts a wide range of products from agricultural to food processing.
PROCESSING POWER
The S-3000W model has a processing power of 16,000 per hour. Therefore, the working hours are shortened and minimize the cost.
CLEANING
The main parts use SUS304 and the measurement part uses PP abd ABS. Therefore, cleaning is simplified.
A SORTING RANK 
A sorting rank goes as for as MAX24. It can be manufactured upon request.
Specification
MODEL
S-200S
S-3000W
S-4000W
S-5000W
S-6000W
Separation ranking
5 Rank
5 Rank
8 Rank
10 Rank
12 Rank
Capacity(per hour)
8,000Pieces
16,000Pieces
16,000Pieces
16,000Pieces
16,000Pieces 
Separation accuracy
± 0.5g
± 1g
± 1g
± 1g
± 1g

Size(W×H×L・mm)

500×600×1800
500×850×3200
500×850×4350
500×850×5150
500×800×6000
Weight
65kg
90kg
150kg
200kg
250kg
Power supply
AC100V
AC100V
AC200V
AC200V
AC200V
Motor
60W
200W
200W
200W
400W
Materials
Stainless or PP.ABS

Weighting range

5g~150g
Movie