SLANT SLICER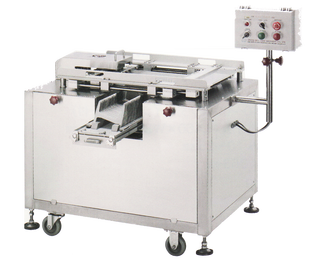 I show ability for sushi material, sashimi processing, fish fillet (saku) processing. It is the general-purpose model that a target range is wide.
An object:Fish, abalone, cuttlefish, tuna, octopus foot, seasoning meat, raw meat, uncured ham, pickle, others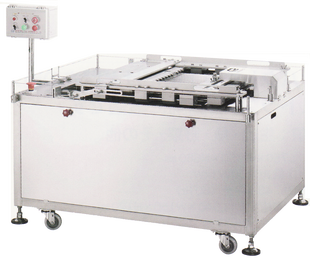 A production type model to prove the power in a food-processing factory.
I realize the cost performance that full specifications are high in.
An object:Salmon, octopus foot, seasoning duck, pickled radish, others
Specification
MODEL
GB-134
GB-136-I

Size(W×H×L)

1200×1350×720 (mm)
1100×1350×1730 (mm)
Power supply
three phase, AC200/0.4KW
three phase, AC200/1.5KW
Capacity(per minutes

)

3~5 Pieces
3~5 Pieces

Slice possibility size(W×H×L)

100×60×300 (mm)
180×80×500 (mm)
Slice thickness
3.5 mm ~
4.0 mm ~
Knife size
0.5t/14W/485L (mm)
0.5t/14W/580L (mm)
Weight
150 kg
250 kg
Movie